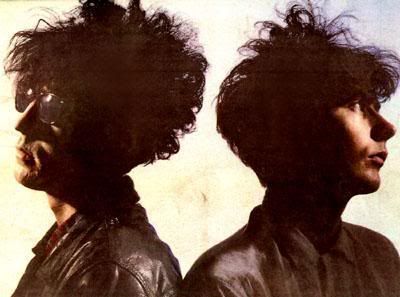 I was thrilled to hear yesterday that the long awaited Jesus and Mary Chain Box Set,
The Power of Negative Thinking: B-Sides & Rarities
has been finally granted a solid release date. The 4 CD Rhino produced set streets on September 30th and promises to be one of the most intense and powerful of all time. Long time fans of the Brothers Reid will know that, like Siouxsie and the Banshees and My Bloody Valentine among others, a lot of their best material was relegated to b-sides and compilation albums. I've waited for years for this stuff to be compiled together and can't wait to get my hands on this monster. The full track listing and press release can be viewed
here
but I haven't yet found a link to the artwork. There's some stuff on here I haven't heard before and some favorites like their Syd Barrett cover "Vegetable Man", a beautiful acoustic take of the sizzling "Teenage Lust" and their explosive Elvis tribute "Guitar Man" are reappearing for the first time in years...I can't bloody wait.