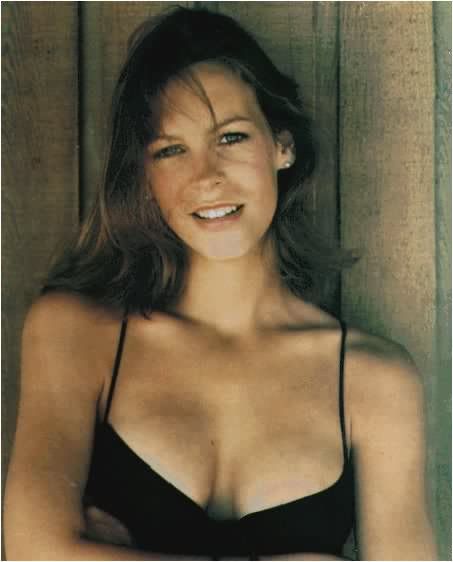 Even though no Oscar sits on her shelf and, truth be told, she has probably appeared in more bad films than good ones, the work of Jamie Lee Curtis has always been a cause for celebration. In a career that has stretched across three decades with roles in every imaginable genre, Jamie has consistently proven herself to be one of the most intelligent and most reliable actresses in all of modern American cinema.
Born in late 1958 to Hollywood superstars Janet Leigh and Tony Curtis, Jamie has spent the majority of her life in the spotlight. While acting would have seemed to be the natural choice of career for the daughter of two of Hollywood's most celebrated, Jamie was initially more interested in paths ranging from Social Work to a literary career. After a short time in college though in the mid seventies, Jamie chose the path both of her parents had taken and in 1975 made her debut in front of the camera, via an un-credited appearance on the hit Peter Falk series
Columbo
.
Throughout the next few years Jamie appeared in several of the most popular shows of the day, including
Charlie's Angels
and a very memorable spot working with Pamela Sue Martin in
Nancy Drew
. These early appearances would of course lead her to the role that made her an instantaneous icon for film fans all over the world in 1978, when a young filmmaker named John Carpenter and a producer named Debra Hill offered her the part as a terrorized babysitter in an upcoming thriller they were planning to shoot.
The character of Laurie Strode in John Carpenter's
Halloween
is such a legendary part that it is hard to not call it the definitive role of Jamie Lee Curtis' career. Doing this though suggests that the rest of her career is somehow a let down, which is the furthest thing from the truth. The character of Laurie Strode is a triumph though and one of the best in all of American genre cinema…strength, independence and intelligence are not often qualities one connects to females in horror films but they all apply to Jamie Lee Curtis in
Halloween
. After being cast initially partly because Carpenter and Hill thought it would be good karma to have the daughter of
Psycho's
Marion Crane in their film, Jamie delivers a wonderfully rich and subtle performance that is as responsible for the surviving and thriving popularity of the original film as anything else.
Despite her reputation as the ultimate 'scream queen' she is so lovingly referred to in Wes Carven's referential
Scream
in 1996, it actually took a couple of years after
Halloween
for Jamie Lee Curtis to get another solid role. Shockingly she returned to TV after
Halloween
and her first turn after Laurie Strode is a part on
The Love Boat
. Carpenter had recognized how great she was though and how much she had given to
Halloween
, and he cast her in her next major role in his 1980 production
The Fog
. While nowhere near as popular as
Halloween
,
The Fog
is a really splendid film and it would offer Jamie Lee a much different character than she had played previously. Perhaps Carpenter had taken her words to heart when she had mentioned that she had actually been closer to the character of Lynda (that P.J. Soles so miraculously rendered) in
Halloween
, because in
The Fog
she is cast as a hitchhiking free spirit who seems as far removed from the bookish dreamer Laurie Strode as possible.
The Fog
marked Jamie's ascent into the horror (or perhaps more appropriately Slasher) film hall of fame, and she quickly became the most in demand shock heroine in film with memorable turns in both
Prom Night
and
Terror Train
(both 1980) and of course
Halloween's
first and arguably best sequel,
Halloween II
(1981). Better than any of these though is her role in Richard Franklin's underrated and very memorable
Roadgames
(1981) opposite Stacy Keach, which contains one of Jamie's most accomplished and effective early performances. In the same year she would also be the first actress to play the doomed Dorothy Stratten in front of the camera in the flawed but interesting TV movie
Death of a Centerfold
.
Despite the varying quality of the films (although I will gladly spend any day of the year with a double feature of
Prom Night
and
Terror Train
), Jamie Lee Curtis proved herself in each as someone remarkably different and original. She was striking, charismatic, complicated and in the span of five years made a serious mark on many film fans across the world that resonates to this day.
It has been noted many times (including in the already mentioned
Scream
) how ironic it is that Jamie's first mainstream role, after not being exploited in so called exploitation films, would have her playing a prostitute called on to get topless. Irony aside though, John Landis' extremely funny
Trading Places
did introduce Jamie Lee Curtis to a whole new audience when it became one of the biggest moneymakers of 1983.
While
Trading Places
would show that Jamie had some serious comedic chops that hadn't been previously tapped into, her next film was more important as it garnered her the most acclaim she had received up to that point as a fine dramatic actress. Viewed 25 years later Amy Holden Jones'
Love Letters
(1984) is still a potent and draining experience. Comparing it to Ingmar Bergman's
Scenes From a Marriage
, Roger Ebert noted that it gave Jamie "The best dramatic role of her career" and there were rumors of a possible Oscar nomination for her, but unfortunately it was not to be as the intense little
Love Letters
tragically feel though the cracks shortly after it came out.
The next few years were tough for Jamie career wise even though she stayed busy. She looked terrific in
Perfect
(1985) opposite John Travolta but the film was a major disappointment. She alternated between TV and film and was excellent in a few solid pictures, like
Dominique and Eugene
(1988), which few people turned out to see. Thankfully though Jamie didn't have long to wait for a hit as 1988 proved to be a banner year for her with a role that proved to be the funniest and one of the most popular of her career.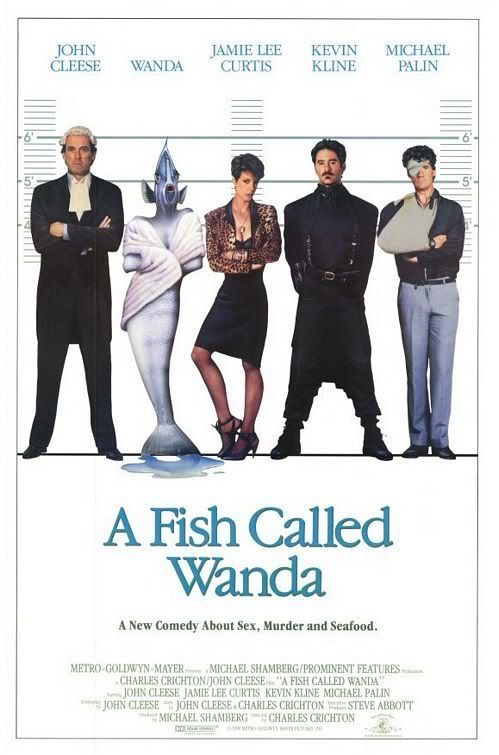 Twenty years after its release
A Fish Called Wanda
continues to be as fresh, funny and memorable as ever. Cast opposite comic giant John Cleese and a never better Kevin Kline, Jamie more than holds her own in the film and she gives one of the most delightful and resonate performances of her career. The film, a major hit, would garner her a Golden Globe nomination but sadly again she was ignored at Oscar time.
After the home run of
A Fish Called Wanda
, Jamie took her first couple of years off for her family and a well-deserved break. She would return with 1990's underrated
Blue Steel
for director Kathryn Bigelow, which would again give her the opportunity to show just how versatile and unique a screen presence she had become.
The next few years would mark a period of great activity ranging from the acclaimed television series
Anything but Love
opposite another comedic great, Richard Lewis, and roles in films ranging from popular family pictures like
My Girl
(1991) to quirky character driven comedies like
Queens Logic
(1991) to Steve Miner's strange Mel Gibson vehicle
Forever Young
(1992).
1994's
True Lies
for director James Cameron would give Jamie the biggest hit of her career, as well as a Golden Globe but like
A Fish Called Wanda
it somehow failed to give her the A-level parts in Hollywood she was deserving of. Once again she would return to television with the odd film role mixed in.
After the disappointing
A Fish Called Wanda
follow up
Fierce Creatures
failed to captivate audience in 1997, Jamie returned to the genre and role that had made her name in the first place with 1989's
Halloween
sequel
H20
.
Wisely ignoring numbers parts 4, 5 and 6,
H20
essentially continues the story of Laurie Strode from the first two films. Jamie attempted to get John Carpenter himself to return but that didn't happen, so instead she got horror veteran and
Forever Young
director Steve Miner to oversee the film. It was a good choice as
H20
does its job at being finally a respectable sequel to one of the most influential films of all time, and under Miner's direction Jamie delivers a weighty surprising performance that elevates an admittedly flawed film into something nearly great. Ignoring that
Halloween Resurrection
ever happened,
H20
was a fitting and resonate farewell to Jamie's most important and popular character.
Since
H20
, Jamie Lee Curtis has slowed down her career in front of the cameras in order to pursue her revitalized early literary aspirations (her series of children's books have proven most popular) and to spend more time with her family. While disappointing productions like
Virus
(1999) and
Christmas with the Cranks
(2004) will prove little more than footnotes to a fascinating career, Jamie's ferociously inventive turn opposite Lindsay Lohan (pity that the gifted Lohan hasn't been able to follow Jamie's model of personal stability) in Disney's
Freaky Friday
remake in 2003 should be a chapter in itself. Perfectly rendered, crazed yet eloquent and absolutely hilarious, Jamie's performance in
Freaky Friday
is one of the most surprising and undervalued of the decade…whereas most of the roles she has landed in the ten years since H20 have been disappointing at best,
Freaky Friday
shows Jamie Lee Curtis is still very much at the top of her game and still deserving of the best Hollywood has to offer.
Personally speaking Jamie will always be extremely special to me. I know that much of the love I have always had for smart, strong and independent women can be traced directly back to the impact Jamie had on me as Laurie Strode. She was an incredibly strong role model thirty years ago and remains just as vital today. I doubt very much I would have fallen as deeply in love with cinema at such a young age if it hadn't been for Jamie Lee Curtis.