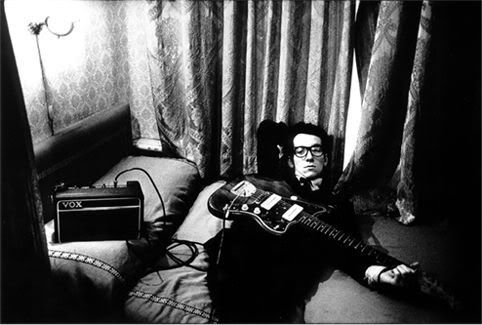 Tonight at Nashville's historic Ryman Theater I will have the pleasure of seeing Elvis Costello live again. I have seen Elvis perform several times in the past fifteen years and each show has been among the best I have ever witnessed, so I don't expect tonight's to be a let down.
With the exception of Lou Reed (whom, amazingly enough I am seeing at The Ryman next week) no songwriter has meant more to me than Costello. Since it had been awhile since I have attempted any kind of 'best of' list here I thought I would offer up a personal guide to the albums of Elvis Costello. It was harder than I thought because frankly I like my least favorite Elvis Costello albums more than my favorites by most other artists and, as with any list, I will change my mind about the order of some selections immediately after posting.
I'm making this a 'Top Twenty' list so a couple fell by the wayside and obviously I'm not including any compilations or live records…enjoy and feel free to argue or agree with any of my choices. I'm also including two favorite tracks off each record, which in some cases was harder than selecting the album order.
1.
Imperial Bedroom
(1982): My favorite album by just about anyone. Costello's stunning masterpiece stands alongside such towering works as
Pet Sounds
,
What's Going On
and
Low
as being an album I can't imagine a record collection without.
Favorite Tracks: The whole damn album but if I had to pick, then "Beyond Belief" and "Man Out Of Time".
2.
Blood And Chocolate
(1986): Searing and often surprisingly overlooked mid-career work that finds Elvis at his most biting. The Attractions sound positively possessed on this album.
Favorite Tracks: "I Want You", "Tokyo Storm Warning"
3.
This Year's Model
(1978): The Attractions debut is still one of the most
ferocious and brilliant rock albums ever recorded.
Costello's most famous lyrics here still have enough punch to put even the most jaded listeners in the E.R.
Favorite Tracks: "(I Don't Want To Go To) Chelsea", "Lipstick Vogue"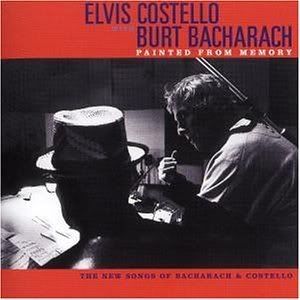 4.
Painted From Memory
(1998): The controversial Bacharach collaboration is rarely off my cd player. Both legends deliver some of their finest work here to pulverising effect. I absolutely adore this album...
Favorite Tracks: "The House Is Empty Now", "God Give Me Strength"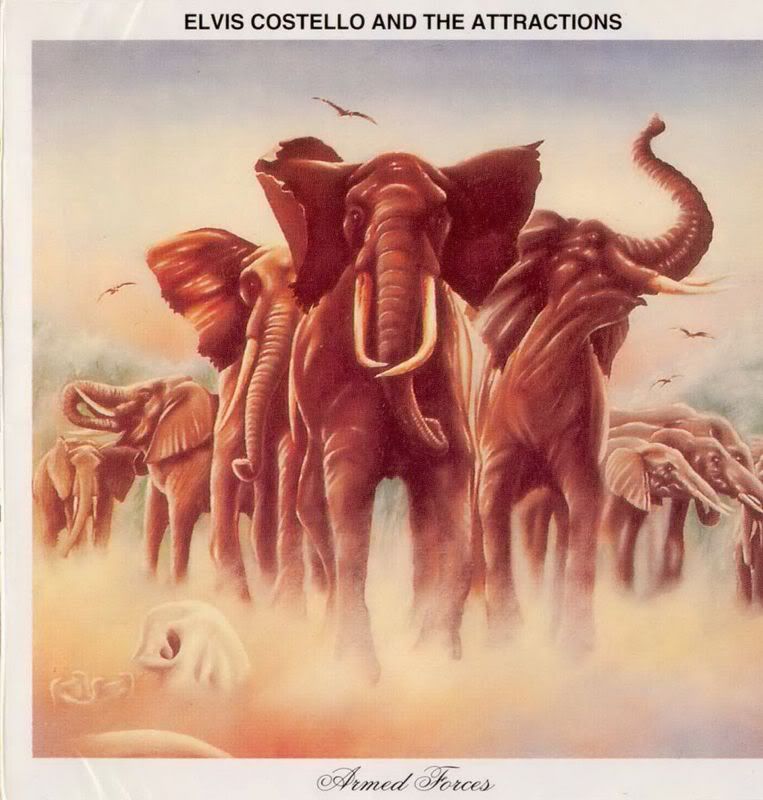 5.
Armed Forces
(1979): The massive third album and the second with The Attractions, who are by this point pretty much the greatest backing band ever. I love the rumored original title for this one...
Emotional Fascism
.
Favorite Tracks: "Accidents Will Happen", "Party Girl"
6.
When I Was Cruel
(2002): This was such an overwhelming album when it came out just a bit past five years ago and it still gives me chills every time I hear it. A stunning achievement that keeps improving with age.
Favorite Tracks: "When I Was Cruel No. 2", "Alibi"
7.
Mighty Like A Rose
(1991): I'll never understand the hostile reception this album got. Beautifully written, played and featuring some of the greatest songs from one of the most vulnerable periods of his career.
Favorite Tracks: "So Like Candy", "Couldn't Call It Unexpected No. 4"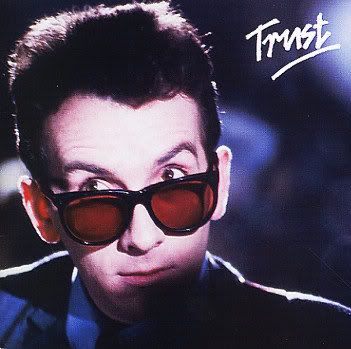 8.
Trust
(1981): I suppose in hindsight it was the first Attractions album that was flawed, but I love those flaws and I find myself playing it more than most of the other early albums.
Favorite Tracks: "Clubland", "Big Sisters Clothes"
9.
Punch The Clock
(1983): I know it's overproduced but production be damned...this album has some of his greatest and most joyously subversive songs on it. Plus, it's hands down my favorite album cover in his catalogue although its got some pretty rough competition.
Favorite Tracks: "Shipbuilding", "Charm School"
10.
King Of America
(1986): Backed by Elvis Presley's TCB band, this album stands as possibly his bravest. Add on to that the great songs and inspired work by everyone involved and you've got a track for track masterpiece.
Favorite Tracks: "Brilliant Mistake", "Indoor Fireworks"
11.
My Aim Is True
(1977): What? The brilliant debut album not in the top ten? Blame it on the disappointing playing here by future Huey Lewis members as all of the songs are truly legendary.
Favorite Tracks: "Mystery Dance", "I'm Not Angry"
12.
Brutal Youth
(1994): The Attractions return with this inspired and diverse collection of songs. This tour was the first time I saw Elvis and the show remains one of the major highlights of my gig going life.
Favorite Tracks: "Kinder Murder", "Rocking Horse Road"
13.
The Delivery Man
(2004): Bruising Americana played like he and his band are coming off a three day bender. It's hard to imagine many more artists nearing fifty delivering an album this raw, twisted and vibrant.
Favorite Tracks: "Either Side Of The Same Town", "The Delivery Man"
14.
Get Happy
(1980): It took me a long time to warm to this album but its rewards are numerous. The sound of a man clearly in trouble paying tribute to some of the most joyous music of his youth...a party record made by someone just over the edge.
Favorite Tracks: "New Amsterdam", "Riot Act"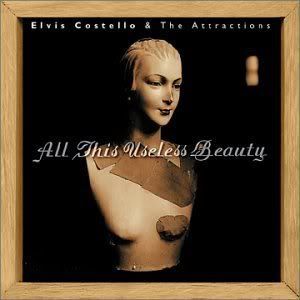 15.
All This Useless Beauty
(1996): Has an album of leftovers ever sounded so alive? Killer stuff here only hurt when one hears some of the songs left off like "Almost Idea Eyes".
Favorite Tracks: "Complicated Shadows", "Distorted Angel"
16.
Spike
(1989): Could use with some cutting but still one can't deny the power of Costello's most commercially successful project, at least here in the States.
Favorite Tracks: "Deep Dark Truthful Mirror", "God's Comic"
17.
Goodbye Cruel World
(1984): "Thanks for buying my worst album"...no problem Elvis, it's actually a pleasure if you can ignore the bad eighties production times 100 and a couple of off tracks...the bonus disc on the reissue is among the most essential in his collection as it shows how great many of these songs were before the dreaded team of Langer and Winstanley nearly destroyed them.
Favorite Tracks: "Worthless Thing", "Love Field"
18.
North
(2003): I've always had trouble warming to to this near oppressively quiet album. Still, it is ultimately a rewarding if very demanding experience.
Favorite Tracks: "Still", "I'm In The Mood Again"
19.
The River In Reverse
(2006): I'll be honest and say that I simply haven't played this one enough so it very well might rank higher for me one day.
Favorite Tracks: "The River In Reverse", "Broken Promise Land"
20.
Almost Blue
(1981): Still a disappointing listen but damn you gotta love the sheer nerve of the guy. Here he is essentially still known as a British punker travelling to Nashville to record an album of drunken country classics...what could be more punk than that?
Favorite Tracks: "Tonight The Bottle Let Me Down", "Too Far Gone"
Limited to twenty, I am forced to leave out works like
The Juliet Letters
and
The Kojak Variety
as well as intriguing collections like
G.B.H.
and
Cruel Smile
. Costello's newest album,
Momofuku
, is getting ready to land and I can't wait to hear it.
I'll be posting a full report of tonight's show later this week.