Considering the guy looked like he was on the point of total self destruction just over five years ago, there is something positively triumphant about the performance of Robert Downey Jr. in
Iron Man
.
I know I am a little late to the party here on
Iron Man
but I had to post how impressed I was by the film and specifically Robert's performance as Tony Stark. While the film falters a bit in the final climatic section, I can't remember the last time I enjoyed a summer blockbuster so much. Jon Favreau's direction is really spirited and manages to find a nice balance between the thrilling older comic book adaptations I grew up with like Richard Donner's
Superman
and the more modern CGI fueled films that typically just find alienating.
Iron Man
is a real winner on nearly all counts. Featuring possibly the best cast of the year including Downey, a menacing and bald Jeff Bridges, Terrence Howard, the voice of Paul Bettany and a radiant Gwyneth Paltrow, Favreau's film is a rare special effects spectacle that also works as a human drama. I felt really invested in the characters here and that's something that rarely happens in these types of films anymore.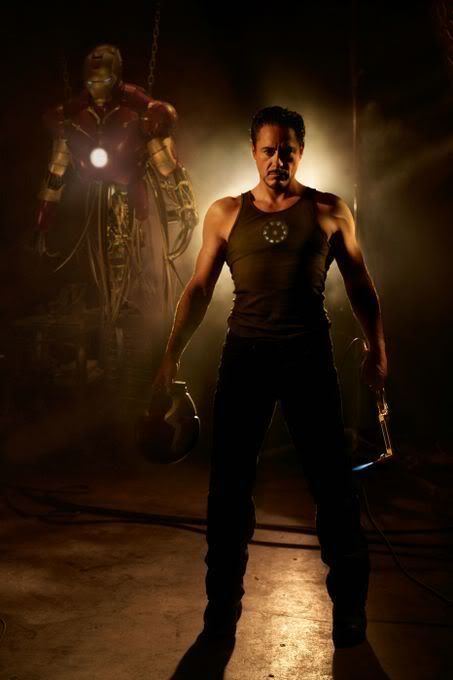 Of course the film is a special effects feast and I found them to also be above the norm, with them only faltering slightly in a climatic fight sequence that plays out as the picture's weakest point. Otherwise though they are really thrilling and I totally believed that was Robert Downey Jr. in that Iron suit and not just a faceless design that originated on someone's computer monitor.
For all the films virtues, including some really sharp and thought provoking commentary on the ramifications of weapons manufacturing, the major selling point of the film is indeed the work of Robert Downey Jr. One of the finest American actors we have, Downey delivers one of his best performances as Stark and he looks the model of good health. I found it quite a moving experience watching Downey in this film and this performance, combined with his scene stealing work in David Fincher's
Zodiac
, marks one of the most successful and much welcomed comebacks in quite a while.
I'm not all that familiar with the comic book
Iron Man
so I can't really comment as to how faithful the film is but it worked extraordinarily well for me and I hope they deliver more films in the series. The film's final defiant moment alone (in which Black Sabbath's own "Iron Man" is used to great effect) made me want to stand up and cheer, even if it was as much for Robert Downey Jr. himself as for Jon Favreau's smart, exciting and invigorating film.