"Blondie were so much more than 70's punk-poppers with a cute singer. Their influence on three decades of sound and vision can still be felt strongly today...musically Blondie went beyond punk to continue New York's classic pop tradition, while introducing underground art and black music forms to the mainstream. Their records might now sound like signals from a lost world but the reception will always be brilliant."
-Kris Needs, Mojo (2008)-
Last night's Blondie show at Louisville's Kentucky Center was one of the most powerful and moving I have ever witnessed…the kind of transcendent rock and roll concert that I frankly didn't think was possible anymore. Playing with the kind of determination and power that only a group truly possessed with greatness could muster, Blondie's 90 minute set last night was simply stunning and I only wish I could have had some of the remaining naysayer's with me to show them something that I have always believed…namely that Blondie is one of the great acts in rock history.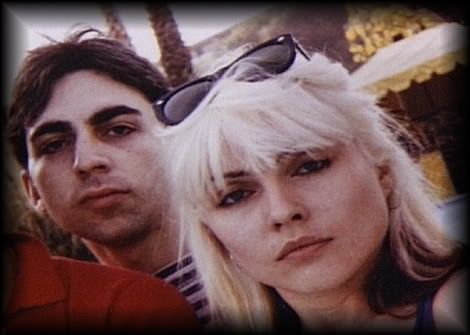 For reasons that I am not going to be able to fully explain, their was something overwhelmingly emotional about last nights gig and I don't think I was the only one in the audience who felt that. The entire room bristled with an excitement that I haven't felt in a very long time…there was something positively soulful in the air and that feeling never let up through the show from the opening instrumental jam to the final strain of The Rolling Stones "Get Off Of My Cloud" that they closed with.
Last night as Debbie Harry sauntered on stage and the entire crowd stood up screaming like a giant invisible hand lifted us out of our chairs I thought of something John Waters said about ten years ago…about how for many people of my generation Debbie Harry meant the same thing as Elvis did for his, and that really came out last night when she seemed to float onstage by her sheer coolness alone. Dressed in black with a baseball cap on and looking about half of her 63 years, Debbie Harry's entrance last night was an absolute event and it's not something I will ever forget. Even after seeing her a handful of times live and getting to meet her once, I still teared up when she came out of the wings last night…like a extraordinary ghost from my past had entered the room and was preparing to sigh that dream that Bruce Springsteen recalled Elvis whispered to him as a young man discovering the power of rock and roll.
Playing in front of a huge
Parallel Lines
styled banner with the word BLONDIE stretched across it like a call to arms, Debbie Harry without a word launched into "Hangin On The Telephone" with an unnerving intensity that took effortlessly everyone in the room back to a time in our lives when we all perhaps believed in something a little more than we do now.
Throughout the show Debbie never missed a step and she sounded wonderful with the last thirty years seeming to make her voice even more distinctive and richer than the records on which it became famous on. Powering through the entire
Parallel Lines
album and then a stunning set of classics, covers and new material, Debbie Harry once again showed that she is still one of the most commanding figures in rock history….projecting the kind of strength that only a handful of her peers can even begin to come close to.
The band backing her was equally jaw dropping. Guided by the masterful Chris Stein (a heroic player who has never fully gotten his due as one for the key figures that came out of the punk movement) on guitar and the legendary Clem Burke (a.k.a. GOD) on drums, the band rocked with a loose and ferocious intensity like they had their backs against a wall in an after school street fight while secretly packing switch blades that they could use at any given moment. Watching Stein and Burke work their brutal and seductive magic was awe inspiring and the rest of the band (made up of Leigh Foxx on Bass, Paul Carbonara on guitar and Matt-Katz Bohen on keyboards) matched the two legends every step of the way. The only missing ingredient was the great Jimmy Destri who was at least represented in spirit throughout the evening as some of his best songs filled the hall and weaved the same distinctive spell they have since he first penned them.
The evening did indeed consist of the entire
Parallel Lines
album, played reverentially in order to an audience of adoring fans from 10 to 70 who all sang along like the songs were a part of their D.N.A.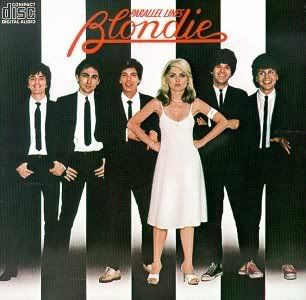 Highlights included the whole damn album, but if I had to choose then "Picture This" was particularly inspired as was "11:59" which saw Debbie defiantly screaming "I Wanna Live" over and over again which probably brought the biggest reaction of the whole night. One track I was particularly keen to hear was "Fade Away and Radiate" since the studio version depended so much on Robert Fripp's legendary guest turn but the band handled it perfectly and I dare say that it sounded so good that the King Crimson axe-man wasn't even missed.
The
Parallel Lines
portion of the evening wound down with a lovely and surprising reworking of the once vicious closing "Just Go Away", a song which got the biggest makeover of the night. After finishing the album Debbie thanked the crowd over some deafening screams and announced the band were then going to do some newer material and some more not so distant classics which is what they did.
The evening's second half was made up of a mixture of the expected hits (a gloriously extended "Rapture", Destri's "Maria" and the inescapable "The Tide Is High") along with a couple of stunners off Debbie's newest solo platter
Necessary Evil
, which sounded like new classics in the hands of Stein and Burke. While Roxy Music's "More Than This" was sadly missing from last nights set list, the choice of covers, including a short but powerful "Hey Bo Diddley" and a surprising blues jam where Stein showed off his still undervalued chops, were perfect choices.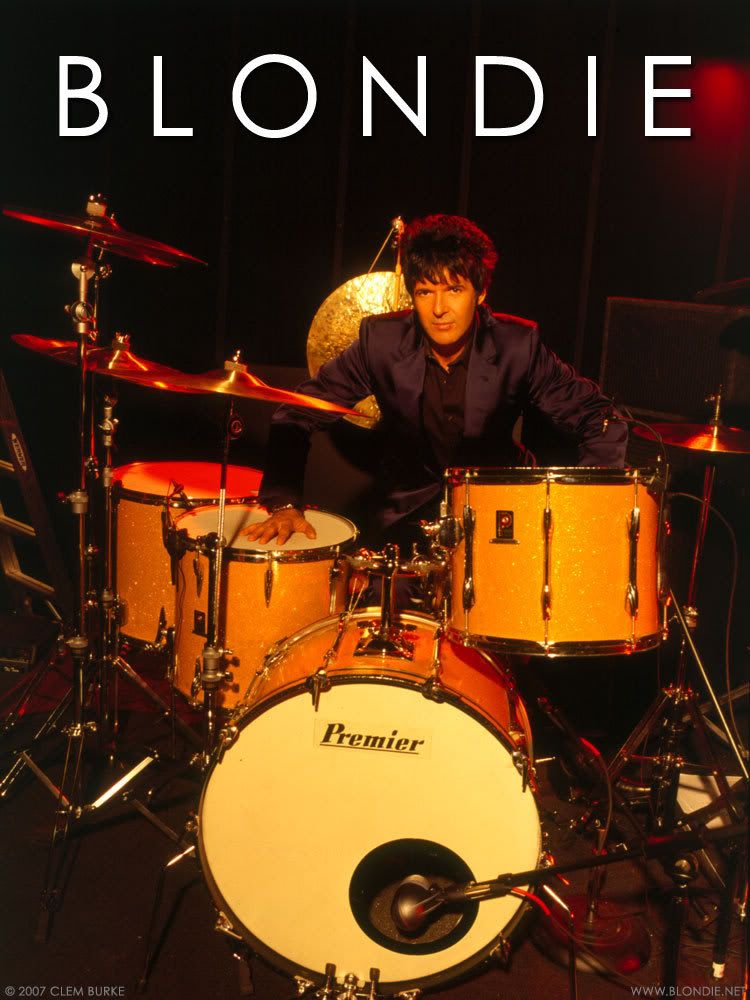 Sharing the superstar aura and charisma of Debbie Harry was Clem Burke. Burke, one of the truly great rock drummers, was a force of nature all through the night. Looking just like he did thirty years ago and controlling the skins with the same kind of wild intensity that the likes of Keith Moon did, Burke was a masterful and mesmerizing presence and I was frankly envious of the people who got his drum sticks that he tossed out before the first encore.
The night was filled with so many memorable moments that it is hard to recount them…from Debbie taking off her shoes, throwing them out into the audience and dancing barefoot on stage to the moment at the end of "Call Me" when it sounded like Burke was going to make the walls of the place totally collapse. It was among the most captivating 90 minutes I have ever seen.
Since the botched release of their audacious
The Curse Of Blondie
five years ago, everything has been golden for Blondie as their stock has considerably rose due to their justified induction into the Rock and Roll Hall of Fame and the fact that more and more young people have discovered their magical legacy (one of the most astonishing things about last nights show was that there were more young people there than there were nearly ten years ago when I saw them on their No Exit tour). For me though the most exhilarating, surprising and resonate moment came during the weekend CBGB's closed its doors for the final time when a visibly moved Patti Smith dedicated part of her set to Blondie…a remarkable show of solidarity from the woman who once told Debbie Harry that rock and roll didn't need her.
Blondie's legacy will continue to grow and if last night's performance is anything to go by then the band incredibly have creativity to burn. Debbie Harry recently told Mojo magazine that she still felt "vital" and that was the word that kept going through my head last night…a vital band playing vital music to a crowd that remained on their feet through the whole show..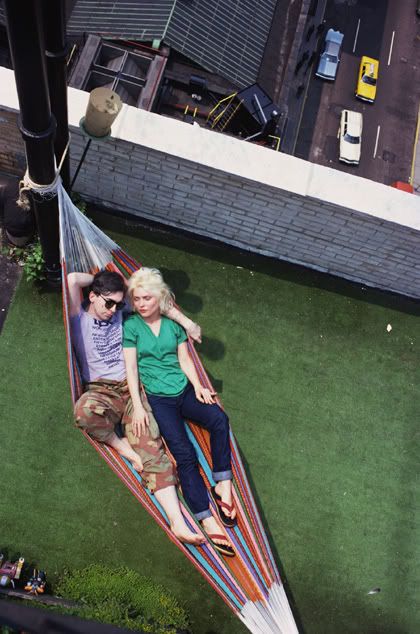 The biggest musical influences of my early life (Elvis, The Beatles, Rick Nelson) were due to my parents but Blondie was my first discovery. They were MY band and watching and listening to Debbie Harry last night I felt the same way I felt that first time I heard them as a young man nearly three decades ago…and I was very, very moved.
***Pics from this show have already popped up and they can be viewed
here
and
here
.***