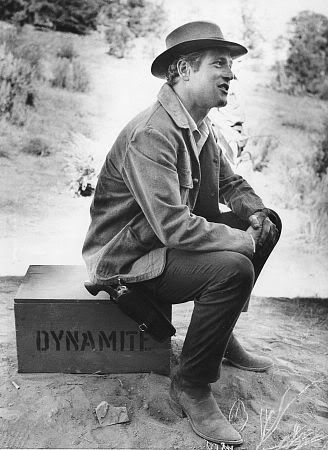 A world without Paul Newman? I admit that I am not ready for it, are you? Even though he has been relatively inactive in front of the cameras for the better part of a decade he was never far from our thoughts, our dreams, our hopes for the kind of man we wished God would still make. During Earth's final days when someone struggling soul is looking to gather together a few final fitting films to watch, you can put good money down that at least one or more will star Paul Newman. He was truly one of the greatest film stars and actors of all time...and the two really rarely go hand in hand but Newman had it all. On top of the extraordinary film career, he was also by all accounts a wonderful human being who never stopped giving, caring and loving his fellow man.
I figured instead of recounting Paul Newman's many accomplishments in the way of a tribute I would instead offer up my ten favorite films from him. I don't mean to suggest these are the best ones (although I am sure several here will go without much argument) but these are the ones that have stuck with me the most. I think they are all great films with one thing in common...the extraordinary and totally original presence of Paul Newman.
10.
Twilight
(1998): No one seemed to know what to do back in 1998 with this low key and complex offering from Robert Benton, which features Newman giving one of his last towering performances. Unfairly dismissed at the time,
Twilight
is a really solid film that now, a decade later, seems like a deliberate return to the kind of low key filmmaking many American directors have forgotten how to deliver.
9.
Fort Apache The Bronx
(1981): Tough as nails Daniel Petrie film that finds Newman giving one of his most studied and wearied performances. He hits just the right balance, as does this underrated film.
8.
The Drowning Pool
(1975): Stuart Rosenberg's killer and superior follow-up to
Harper
finds Newman at his absolute coolest.
7.
The Towering Inferno
(1974): Two Words...Newman, Mcqueen.
6:
Slap-Shot
(1977): George Roy Hill's foul mouthed hockey film is one of the great sports films and, simply put, one of the best of the late seventies.
5.
Absence of Malice
: Had it been released just a few years earlier, this tight and paranoid Sydney Pollack film would probably have been granted classic status by now, but a lot of film fans just don't seem to know about it. Featuring one of Newman's greatest performances opposite a pitch perfect Sally Field,
Absence of Malice
deserves more attention than it has ever been granted.
4.
Cat on a Hot Tin Roof
(1958): Has there ever really been a movie couple as steamy and beautiful as Elizabeth Taylor and Paul Newman in this film? The real juice in this Tennessee Williams adaptation though comes in the extraordinary scenes between Newman and Burl Ives as his father. Rarely has anyone ever portrayed loss and dis-satisfaction as well as Newman does here.
3.
Hud
(1963): I could go on and on about how great Martin Ritt's film is but just go back and watch that haunting final scene again to see for yourself.
2.
The Verdict
(1982): In my book this is Paul Newman's greatest performance and how he didn't win the Oscar for it will forever escape me. Sidney Lumet's moving film plays even better today than it did a quarter of a century ago as it just feels so crushingly relevant. Newman's performance as Frank Galvin is one of the cinematic heavyweights. Seriously, how did he not get the Oscar for this?
1.
Butch Cassidy and the Sundance Kid
(1969): I'm glad I took the time to write a little tribute to this film recently as I wouldn't give anything for it. It's one of those films that never fails to move me, make me laugh, make me cry and finally just bow my head in reverence. I thought it was fitting that it was Robert Redford who released one of the first public statements about Paul's passing today, as there has never been a better screen team. Newman, like Butch in the film, thankfully always used just enough dynamite and he wasn't afraid to add a little more to get the job done if needed....God bless him.
Tributes to the great man are pouring from all over. A few of the best I have read so far are:
Kim Morgan's post at
Sunset Gun
.
Kimberly Lindberg's farewell at
Cinebeats
.
Tony Dayoub's tribute at
Cinema Viewfinder
.
I will add more as I see them and of course I want to extend my best to Paul's friends and family...he was a truly extraordinary man and one of our greatest actors.