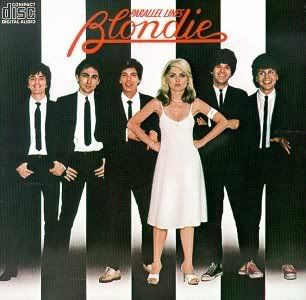 While I haven't written much on
Blondie
here, the impact they had on me growing up and in my adult life is immeasurable. "The Tide Is High" was the first 45 I ever owned and Debbie Harry's
Rockbird
was one of the first albums I ever saved up for specifically to buy. The music of Chris Stein, Clem Burke and Jimmy Destri combined with the razor sharp wit and intelligence of Debbie's lyrics formed a big part of the soundtrack to my life.
I just found out that Blondie are hitting the road again to celebrate the thirtieth anniversary of
Parallel Lines
and I wish them all the luck in the world with it. While I prefer the early rawness of
Plastic Letters
and the dark paranoia of
The Hunter
, there is no denying that
Parallel Lines
is one of the most perfectly crafted and performed rock albums of the seventies. From the opening blast of "Hangin on the Telephone" to Robert Fripp's astounding guest spot on "Fade Away and Radiate" to the put down finale of "Just Go Away",
Parallel Lines
is a perfect album that captured the band at their confident best. I have no doubt it will sound awesome live.
I just saw Blondie once, on their
No Exit
tour, about a decade ago and it was a phenomenal show. While they have all aged, they still put on one of the most exciting shows you can see. I even met Debbie once, after a Jazz Passengers gig, and I must admit it was the only time I have ever been nearly speechless in front of someone.
I hope I get to see the tour and I would like it to be a huge success for them. Many of my happiest moments have been spent in the company of a Blondie record and those moments will never fade away for me.