While I keep a running list over to the right of films I have seen theatrically this year, I don't often write on them here, as typically reviewings on DVD alter my opinion of them at least a little bit. However I thought with the thankful arrival of fall I would give a quick run through of a few films I have seen on the big screen in the past couple of months. Thankfully I am planning on moving to a more foreign friendly area within a few months so this time next year my viewing lists will surely be much more interesting.
THE GREAT:
Vicky Cristina Barcelona
: Put simply, Woody Allen's newest film is my favorite of the year and to my eyes his best in over fifteen years. A stone cold Rohmeresque classic.
Tropic Thunder
: Landing in at number two so far is Ben Stiller's savagely funny satire that as far as I am concerned places him amongst the smartest and most daring American filmmakers around right now. In a perfect world Robert Downey Jr. would get an Oscar nod for this and
Iron Man
.
Pineapple Express
: I've climbed on board twice and am already ready for another trip. Fall down funny, exciting and oddly very profound.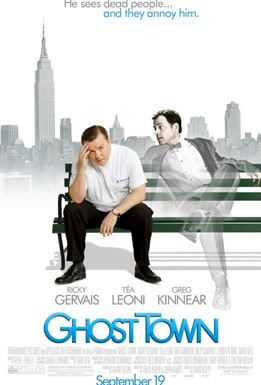 THE GOOD:
Ghost Town
: While he might never reach the heights of
The Trigger Effect
and
Stir of Echoes
, I continue to find a lot to admire in the films of David Koepp. This sweet and moving little work offers up a terrific Ricky Gervais and the best role Tea Leoni has had since
Flirting With Disaster
more than a decade ago.
How to Lose Friends and Alienate People
: I suspect it has been toned down from the book, but I quite enjoyed this Simon Pegg-Kirsten Dunst film and am a bit baffled by the critical pounding it has received.
Death Race
: Speaking of critical poundings, Paul Anderson's film gave me exactly wanted I wanted…a great big adrenaline filled ass-pounding mindless modern action film that I will take over any recent Michael Bay pic you care to name.
The Duchess
: A nicely composed, slightly overlong, period piece that goes another step forward in establishing Keira Knightley as one of the great actors of her generation.
Quarantine
: Surprisingly well done and honestly I found it more enjoyable than
Cloverfield
. I would like to punch the studio though for including the film's final bracing moment in the trailer, surely one of the biggest marketing missteps in recent memory.
THE SO-SO:
The Appaloosa
: I know this deliberately old fashion Western from Ed Harris is really doing it for a lot of folks but it left me cold…really cold. Shame, as I greatly admire both Harris and Viggo Mortenson.
Righteous Kill
: Jon Avnet's tv-movie of the week isn't as bad as I feared but it is downright tragic that this is the picture that two of our biggest icon's finally substantially landed in together.
HELP ME GET OUT OF THIS THEATER:
Nick and Norah's Infinite Playlist
: I can't remember the last time I hated a film as much as this one. Badly written, terribly acted and poorly directed, if this is what the 'modern New York film' is going to look like then I hope they start shooting everything in Ontario. Seriously there is a moment in this film when Michael Sera mumbles something about not washing his jeans because he wants to keep the night on them that actually made physical violence seem a viable option to me.
There were a few more but I won't go into them right now. All in all not a bad summer but I must admit that I am looking forward to soon landing in a town that isn't terrified of showing more independent and international productions.